The Latest from Microsoft: Windows 11
The end of 2021 saw the release of Windows 11, Microsoft's first full update of the operating system since Windows 10 in 2015. The six-year wait between updates was the longest in Windows history — so, was it worth it? With rollouts occurring throughout 2022, Windows 11 will bring improved security features, a more modern visual design, and better app integrations; however, it will also bring increased hardware requirements. In this article, we'll provide an overview of some important new features of Windows 11 and our advice on when and how to make the transition.
Overview of Windows 11 features
Windows 11 updates mainly focus on the interface, security improvements, usability, and app integrations. From a design perspective, the interface has been simplified, with rounder edges, new colors and icons, and a clean design somewhat resembling Android or iOS. This is a continuation of Microsoft's Fluent Design System that was introduced with Windows 10, and we are seeing its evolution here in Windows 11. Microsoft states that the design goal was to create an environment that feels familiar, but makes the user feel more in control.
Other new features boost productivity for in-office, remote, and hybrid workers. Microsoft's own literature describes Windows 11 as "an operating system designed for hybrid work and learning." Some of these features include updates to MS Teams to make it more integrated into Windows and easier to use. For example, the Chat function in Teams is now in the task bar, allowing instant communication via video, audio, or text with any Windows, Android, or iOS user.   This is surely to compete with Zoom, and to a lesser extent Facetime, in the virtual-meeting space.
Windows 11 also re-introduces Widgets in place of Windows 10's News and Interest panel. Now, there is a collapsable panel of tools for checking news and weather, searching the web, managing calendars, making to-do lists, etc. Widgets will initially be Microsoft powered; for example, web searches will be Bing and calendars will be Outlook, but the plan is to include third parties in the future.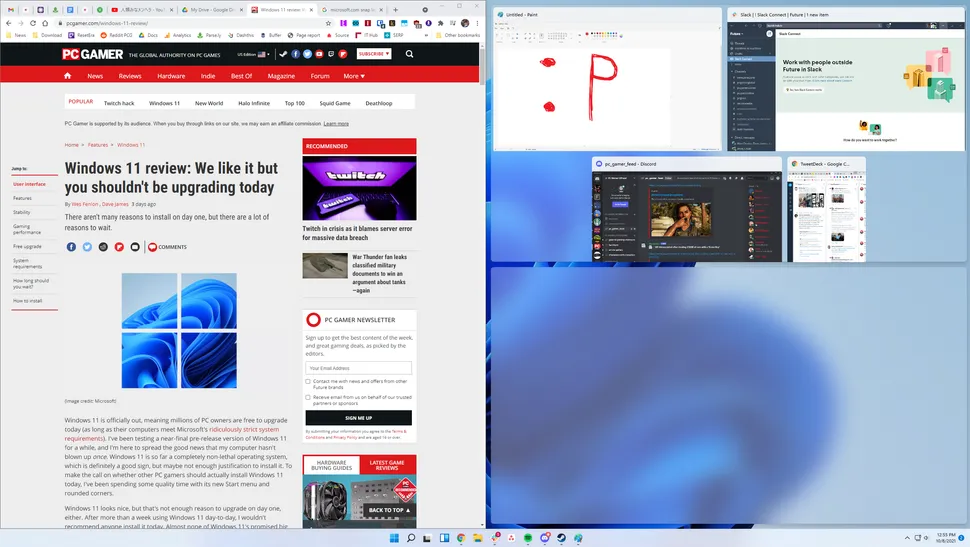 Another new interface productivity feature is Snap Layouts. This lets you work more easily in multiple applications at once by organizing their windows as tiles on your screen. Where the Snap feature in Windows 10 was a manual process, Windows 11 makes it automatic, with the ability to choose from a variety of templates for the application tiles. 
Finally, Windows 11 promises to remain familiar to IT professionals. For example, Windows 11 is designed to allow IT professionals or MSPs to continue to monitor systems using the same tools in place today. The features deployed in Windows 10 to improve app compatibility have been expanded, as has support for virtual desktops, making remote diagnostics easier.
What we like about Windows 11
Our clients know that cybersecurity is an important part of Umbrella's offerings. Throughout 2021, we worked to deploy a wide range of cybersecurity measures to keep the bad actors out of our clients' systems. Therefore, we are especially enthusiastic about the additional security measures Microsoft has brought to Windows 11. In fact, Microsoft is leaning heavily into security with this update, stating that "security has never been more important" and referring to the recent worldwide shift to remote work and learning as "the most complex cybersecurity environment we've ever seen." 
According to Microsoft, the biggest cybersecurity threats come from people using multiple devices, applications, and networks for their jobs and education. This all requires a lot of access, and access has to be controlled to keep bad actors out.
It's no surprise then that one of our favorite aspects of Windows 11 is the emphasis on it being secure by design. This approach ensures that the platform is built from the architecture up to protect user data, or, in Microsoft's words, "security from the chip to the cloud." Secure by design ensures that any development of apps or the platform itself follows specific security best practices. Specific best practices also apply to any response to a breach or cyberattack.
Let's look at some of the specific security technologies that make Windows 11 appealing, especially from an MSP's point of view.
Windows 11 is Zero Trust-ready. Zero Trust is an approach to data security that ensures every request for access is treated as a potential threat from outside one's security perimeter. This strategy is essential for any organization offering remote work for their employees, as they will be accessing critical data from home or public networks, possibly using multiple devices, including personal devices.
At the organizational level, Zero Trust means assuming nothing behind one's firewall is safe — everything must be verified. This approach also applies on an individual, end-user level: instead of assuming a link or attachment in an internal email is from a trusted colleague, one must always assume the worst and treat that email as a phishing attempt and that link or attachment as a threat. Windows 11 makes implementing a Zero Trust strategy easy with built-in security technologies, such as hardware-based isolation, encryption, and malware prevention — all configured by default.
We really like that the new OS brings better security and a more attractive interface all while remaining familiar to end users and IT professionals. This will make the transition easier for everyone, whether you're upgrading from Windows 10 or 7, or purchasing a new machine with Windows 11 already installed. In addition, Microsoft claims it is working hard to make the transition less traumatic than with previous updates to Windows. This includes allowing Windows 10 and 11 to be managed by MS Endpoint Manager.
Windows 11 deployment details and timeline
Why Umbrella isn't deploying Windows 11 right away
Microsoft is rolling out Windows 11 in phases throughout 2022, with the newest PCs getting it first and all other compatible devices by Q3. Upgrading from Windows 10 to Windows 11 will be free. For those worried about the update throwing their systems into disarray (as with previous updates), the good news is that upgrading isn't mandatory and Microsoft has promised to continue supporting Windows 10 until 2025.
Umbrella will be rolling out Windows 11 for our clients, but not right away. This follows our standard software upgrade practices and is based on the following reasons:
We start with an internal rollout to help us identify any major issues or bugs and correct them before rolling out to clients. Internal rollouts normally take us 30–60 days for full testing, pending no major issues. As soon as we are done with our internal rollout/testing, we will send out communication to clients.

To further minimize potential disruption for our clients, we release updates in small batches so we can roll back should any issues arise. This allows us to confirm that all of a specific subset of client LOB applications are working as they should. These early-adopter clients are determined by our Centralized Services (CS) department. We will prepare and send out communications to clients to let them know when they can expect their update to roll out.

Windows 11 hardware requirements are higher than for previous upgrades. While Umbrella specs PCs to last for several years, we realize there could still be older devices that will be taxed by the upgrade. Some basic requirements for Windows 11 are: 

Processor: 1 gigahertz (GHz) or faster with two or more cores on a compatible 64-bit processor or system on a chip (SoC)

RAM: 4 gigabytes (GB) or more 

Storage: 64 GB or more of available hard drive space 
Please note that any PCs Umbrella quoted and sold will exceed the requirements, as we purposely spec our PCs to meet future software requirements. If a client has any devices on their network that do not meet these requirements, we will let them know.
Any questions about Windows 11?
We know a lot of people will be wondering what the new version of Windows means for their productivity and security. At Umbrella, we are excited about the update but we are also cautious. As we always have our clients' best interests in mind, we will make sure any disruptions to productivity and workflow are kept to a minimum. That said, feel free to contact us if you have any questions while waiting for your upgrade.